Fic title: The Dog Who Belonged to Himself
Author name:
liliaeth
Artist name:
spn_2008
Genre: gen
Pairing: none
Rating: PG13
Word count: 25168
Betas: Much thanks to
creepylicious
and Mary Laws
Warnings: mentions of child abuse, both sexual as physical, trade in children, non graphic depictions and mentions of adults raping children, non graphic flashback to the rape, abuse and dehumanization of a child
Summary: Shortly after John Winchester lost his wife to demons, he lost his oldest son to a Skinwalker. Now, twelve years later, he's hunted down every single Skinwalker he could find and killed them, unaware that his oldest is still alive. That the monster that took his child hadn't taken his life, just his humanity. That she'd turned his child on the command of a human slave ring that traded in Skinwalker children. Dean ended up saved and raised by the Hunter Bobby Singer, but what's a young pup to do when his foster father goes missing and the only one who can help him find him, is a Hunter who despises his kind and would kill him on the spot?
This is the second story in my
Skinwalker Dean
series. The prequel can be found
here
Masterpost Art: Can be found
here
and is made by the far more awesome than I deserve
spn_2008
Masterpost Fic:
http://liliaeth.livejournal.com/400286.html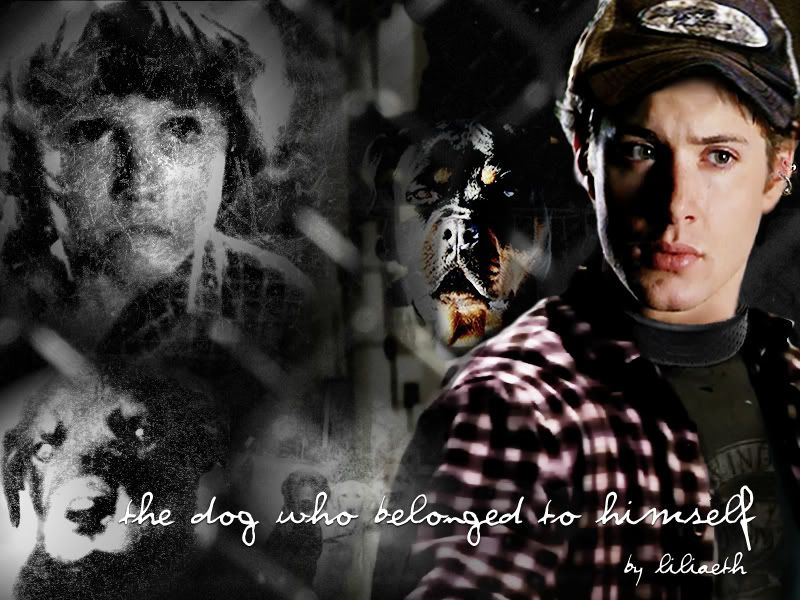 Sam was sitting quietly, trying to follow whatever the Skinwalkers were saying when they arrived. One of them, a boy about Singer's age, was begging some guy called Cody to take him with them. The kid was desperate, telling him over and over that he wanted to hurt these people too. But Cody grabbed the boy's shoulder and told him no. The older Skinwalker was all fatherly about it, telling the kid he had an important duty as well, looking after Sam, so he didn't get away. But Sam recognized that tone. It was the one his own father used when he was giving Sam some 'important duty' that just meant he had to stay safe while Dad threw himself into danger.
The boy stamped his feet, but the Alpha wasn't listening and started ordering the others, getting ready to attack. They hadn't hurt him, but that didn't stop Sam from being scared.
Bobby Singer was part of the planning, pointing out some flaws that would have gotten them all killed, or worse, captured. And no one seemed to even think of trying to tell 'him' he had to stay back.
When they left, Sam tried to sit up and stared at the young Skinwalker, the boy was almost restless. Sam had to stop a chuckle when the raging angry boy turned into a yipping and barking Chihuahua. Oh forget it, he did start laughing. "Seriously?"
The dog turned back into a boy and grabbed his shirt, climbing back into his pants, his skin flushed red in embarrassment. "What? They're dangerous dogs."
It only set Sam off laughing even more.
The kid finally sat down on the bed next to him. "It's not fair, all the others got to be big and scary, me, I end up being a joke. "
"Well you're cute, that's something, right?"
It only got him a growl. "I can still bite your ankles you know."
"Ooh, now I'm scared." It got him a yip that only made him want to pet the dog's head. He was pretty sure he would lose his hand if he tried, so he managed to keep the urge at bay.
"Oh shut up. Just wait and see what kind of dog you'll turn into, once Cody gets back."
Sam's breath froze. He tried to say something, stammer something, but he just couldn't.
"Don't worry, Cody doesn't kill kids, it's against the pack's code. But it's not like he can just let you go either. "
"He can't…"
"It's not so bad. We could be friends, I could teach you all about hunting prey and being a Skinwalker. That wouldn't be so bad, right?"
Sam stared at him and pulled away against the headrest. He had to get away, now.
John remembered a day twelve years ago. His wife had died only a few months earlier and he'd been lost in his grief, wanting answers and hating the ones he got. In the end he just grabbed a bottle and lost himself in it for days at a time. Barely managing to feed his kids. Dean had been a godsend at the time, watching over his baby brother, keeping him quiet.
But at times, even that had only angered him more, that he could demand so much of his son and the boy would give it, that he could be so horrible a parent, and the boy would just take it. So he told him to get out, go play, stay the fuck away cause he was giving Daddy a headache. He hadn't wanted to scream at Dean, hadn't wanted to hurt him. It had been the booze and the loss and by the time he finally woke up from his drunken stupor, baby Sammy crying his head off, wailing for a new diaper. He looked around and his oldest wasn't in the room. It was dark outside and he leaned up against the wall as he opened the door, ready to call his boy inside.
But Dean wasn't anywhere in sight.
"Dean, get in here. Dean!" His head was bursting, killing him. But he grabbed the carrier with his youngest son in it, barely remembered to cover him against the cold and went outside, roaming the surrounding streets. It was no wonder when a cop car stopped next to him, demanding him to stop. Almost arresting him when he smelled the stench of the booze coming from John's breath.
He was still suffering from a hangover when he told them his son was missing. To please help him find Dean. And in that moment he would have done anything, stop hunting, give his life, sell his soul if he had to, if it meant he'd get his son back home.
The cops took him to the station, and it was hours before one of them actually listened to him and started the search. John had just sat there and let them. He'd already lost his wife, and now Dean, Dean was … gone and it was his fault.
When they finally sent him home, he stared at the empty bottles filling the room, desperately looking for another one, when Sam started crying. He threw the bottle against the wall, seeing its content dripping down from the wall and picked up his son. Cleaning the stuff up, was the last time he ever came near alcohol again.
He couldn't even find it in him to be more hit by shock when the cops came to the motel room and asked him to come to the station, to identify the shreds of Dean's clothes. They said they'd found bones and had seen a dog covered in blood. A dog, a fucking dog took his son and he couldn't believe it, went looking for it and found it. A Skinwalker. The woman tried to beg him for mercy, tried to get him to listen, tried so hard to tell him it wasn't her fault. But all he could see was his son's blood on her teeth and he just shot her.
It was just a coincidence, right? That the stories matched up so well. That this boy had green eyes, like his Dean had had, that his features reminded John so much of Mary's. The ages… It couldn't be, because if it was, he'd sentenced his son to a life of horror, just because he'd been so crazed with revenge that he hadn't been able to see straight and just listen.
It couldn't be. It wasn't. The bastard was lying, anything but that, anything, but…
"Now I can see the possibility that it wasn't you." Donald continued. "Like you said, you won him in a poker game. Maybe I was wrong. Maybe all you have to do is tell me who you got him from, and I can go kill that guy and the two of us can come to an … agreement. I could even offer you a finding fee. Say two hundred dollar. That'd be more than fair, wouldn't you say?"
John managed to throw one of the men holding him up against a wall, kicked down a second of the guns aimed at him. But there were too many of them and soon he was held to the floor, while Donald went up to the Skinwalker again. John could see that the boy had tried to help him, but the guard behind him had grabbed him with a silver chain, forcing him down, head pushed to the floor.
Donald went up to him, and for a moment John thought he was going to beat the boy, but he didn't. "You poor boy, still protecting your new master, aren't you? Don't worry son, you'll learn to appreciate me soon enough." He grabbed a dog treat from his bag and pushed it into the Skinwalker's mouth. "I remember how you used to like these." The teenager didn't even get a chance to spit it out, forced to swallow or choke.
And John remembered how the boy had quietly begged him for death, the night before, waking him up with silenced screams. He desperately tried to remind himself that this was a monster, that it wasn't human, that it wasn't his son, couldn't be. But once the dam burst all he could see was a terrified young boy who was headed into a life of slavery, all over again and it was all his fault.
"Shoot him." Donald said, no longer interested in John, while he had the boy right in front of him.
John would have gladly taken his own bullet by then, but he couldn't, he had to save the boy, had to get him out, even if it cost him his own life when he realized something. The same thing as in the bar, how the noises had suddenly stopped for a second before bursting out times a hundred. People screaming, dogs barking and then glass bursting as two large dogs kicked into the room.
John managed to push away one of the guns, kicking the second guy in the guts, before grabbing out the first guys gun and aiming it at Donald.
He wanted so much to kill the bastard, but that would be too good for him. So when the dogs attacked Donald; and Donald didn't get a chance to drop another of his orbs, John just grabbed the boy and shielded him from the sight.
It took ages and it was over far faster than Donald deserved. And it was then that another man stepped into the door. John let go of the boy, allowing him to get up, desperately grabbing for his gun, knowing he was as good as dead when he saw the look in the bearded man's face.
"Oh god, Dean." The man whispered and the boy looked up, and ran right at him.
"Dad!"
"It's alright, Dean, you're safe." The man kept whispering, repeating the name, over and over again. And John sank to his knees, staring at the boy, at his boy, who called another man father and wishing they'd just killed him first.
Bobby didn't think he'd ever seen as controlled an attack as this. No one was killed, yet, but the doors were shut and Skinwalkers spread out to every entry to keep anyone from escaping. Both Vampires and Skinwalkers in the crowd seemed hesitant, in many cases too terrified of their owners to fight, even now. It was only as they got a bit further in that Bobby saw the first body. It almost surprised him to see the guy was shot, rather than clawed to death.
He recognized the guy, a Hunter, probably came in with Winchester. It only reminded him that he had to find Dean, now, before Winchester murdered him. He got up the stairs, watching as several of the Skinwalkers had already beaten him there.
He had to fight the urge to step in when he saw what the monsters were doing to the man on the floor, but then again, in this case, the creatures weren't the actual monsters in the room.
It was only then that he saw Dean. Winchester was holding him. For a moment he thought that Winchester was using him as leverage, using a seventeen year old boy as a hostage against the other Skinwalkers. But it was only when the maiming was over and Winchester let go of Dean that Bobby realized the truth, that Winchester had been shielding his son. It was almost enough to make him want to protect the man. Almost.
"Oh god, Dean." Bobby whispered. Dean got up from the floor, his neck and arms tinged with red from silver poisoning. Even knowing it was only temporary, hurt, because he hadn't been able to protect the boy from it. He stood there, frozen, wondering if he should shoot Winchester now. That's when Dean ran up to him, grabbing hold of him as if never willing to let go.
"Dad!"
"It's alright, Dean, you're safe." And all he could bring himself to do was whisper on the words, over and over, telling his son that everything would be fine now, that no one was ever going to hurt him again.
Dean was still at his side when he stared down, wondering what the hell they were going to do with these people, these monsters who thought they could control the wild. Some of them might even be innocent, not even realizing how many of these monsters were created. They weren't human after all.
The Alpha stared at him, clearly wanting nothing more than to order his men to kill them all.
"I've called the police," he finally said. "Told them about the bodies hidden around the grounds."
Bobby's grin grew feral at that. "Bodies?" he whispered.
"A lot of Skinwalkers and vampires were killed in these fights, slaughtered for the amusement of the crowd. As far as the cops go, it's just people forced into fights to the death. Several of them were children, younger even than yours."
"So you're not going to kill them?"
"And get every Hunter in the county after my Pack?" Cody turned away. "I want to tear them to shreds, I want to make them suffer as they made our people suffer. But I have a responsibility, I have a Pack to look after."
"And most Hunters wouldn't understand the truth." Bobby agreed with him. Even if he told every last one of them what had really happened, all they'd see would be a bunch of dead humans and a pack of monsters with blood on their fangs.
"They wouldn't care, I know that better than anyone." Cody whispered, he shrugged and stared at the cabinets. "I just hope that these bastards were thorough in their paperwork. That way we might find and free some of the Skinwalkers that weren't here tonight."
Bobby nodded before looking at Winchester who was dragged along by two of the Skinwalkers. His hands tied to his back and his legs shackled so he couldn't try and run.
"What about Winchester?"
As if he heard his name, the man turned their way, staring at Dean. It made Bobby sick at the thought of what that man would have done to his son if given the chance.
"He gets a trial, a jury of our peers. Let's see how he faces the loved ones of those he massacred, often for no reason beyond what they were."
"They say he had reason." Bobby tried to defend the man. "That someone, a Skinwalker, murdered his son."
"You don't see me killing every human I meet for what these bastards did! Why should he deserve more than that?"
"He was nice to me." Dean whispered softly. "Not in big ways, but he fed me, he wasn't cruel. And he tried to help me find Dad."
Dean looked away from Cody as if wondering if he had the right to speak up. No matter what Bobby did, Dean's self esteem was lower than that of a gutter rat. It didn't help that the boy had to be feeling the pull of his Alpha as much as the other Skinwalkers in the room did.
"He wouldn't be here, if he hadn't tried to help me."
"Dean." Bobby wanted to grab his son in a hug, he'd never been as proud as he was now, but it would make the boy embarrassed if he did. Teenagers!
"I know he was thinking of killing me, but it wasn't just that. And he didn't hurt me, he was just trying to protect his son from me. He thought we were the monsters. Shouldn't we prove him wrong?"
Cody seemed hesitant at that, frozen in the moment of decision when a shot was fired. They all turned and saw a man lying on the floor, another man standing behind him. A Hunter. Bobby recognized him. Carter Willis, one of the biggest assholes in the hunting world suffering from a one track mind where dogs were concerned.
It was then that they saw the downed man had been holding a gun as well, one aimed at the Skinwalkers. The alpha grabbed the gun, smelling it, "silver" he spat out.
Willis just scoffed. "Well you guys were so busy talking, I figured I might as well save your hides." The man was hurt, bleeding, and barely kept on his feet
"Why?"
"Because it's one thing to hunt monsters, it's another to ruin kids lives to make a profit. And I don't play that kind of game." He ran over, falling to his knees, it was then that Bobby noticed the blood stains on his chest. He'd been shot.
Cody ran up to the hunter, sniffing him. Bobby stared in shock when the Alpha leaned over the man on the floor, transforming to a dog, biting into the Hunter's neck. Bobby wanted to grab his gun, run him to them, wanted to do something, when Dean pulled him back.
"He's not killing him." Bobby stared back, realizing something was happening to Willis' body, it was shifting, slowly but surely until it showed the face of a large older golden retriever, who slowly got up on his paws, still wearing his now shredded clothes. "He's saving him."
John wasn't even sure what to expect anymore. Until he was thrown into a van already holding his son.
"Oh God, Sam." Sam seemed fine, unhurt. Not that that had to mean anything.
"Dad?" The boy ran up to him, hugging him, scared of something, but unwilling to say what he was so scared of. Besides the Skinwalkers that were holding them hostage.
They were dragged out of the van, Sam taken away from him again as John was forced down the stairs to a basement.
Several of the Skinwalkers came in with him, showing there was no hope of escape. He was left alone in the dark, chained to the walls, before the Skinwalkers went back upstairs. And all John could think of was his children, Sam, who was so scared, and Dean, his beautiful Dean, alive.
When the door opened, Bobby Singer's was the last face he expected to see. The Hunter left the door open behind him and turned on the light, grabbing a footstool and sitting down on it before glaring at John.
"You took my son into a dogfight Winchester. You risked a seventeen year old kid's life, and nearly got him taken by a bunch of monsters who would have gladly raped him, taken everything he was away from him and turned him into a slave."
And John had no answer to that.
"You could have gotten him killed, and why? So you could put another few notches on your Skinwalker belt? So you could say you shot a few more dogs. Most of whom were innocents?" He raised his hand before John could interrupt him. "These things weren't monsters, Winchester. They weren't killing innocent people, they were victims."
And John froze back, trying to come up with a defense and not finding any.
"Do you want to know how I found Dean, John?"
John nodded.
"I followed a lead on people getting attacked and killed by dogs. I figured it might just be a couple of rabid dogs, but I couldn't risk it being something else." He stopped for a moment, lost in thoughts, rubbing his beard before he continued. "What I found instead was a man, a regular human, who had taken a couple of children into his home, Skinwalker Children, and then trained them to fight in dogfights, starving them all if any of them lost a fight. By the time I got there, the dogs had gotten so hungry they'd been attacking anyone unfortunate enough to cross their master's lands."
John had to stop the urge to throw up, remembering Donald's story.
"But it wasn't enough for this bastard to force kids to kill other kids. Kids, grown into men I had to kill because they were too soaked in bloodlust to dare and ask me for help instead of seeing me as an intruder. At the time, I knew the bastard was scum, but I just thought he was an idiot. Thinking he could control those Skinwalkers, while really they were playing him. It could have ended there, if I'd left then, I wouldn't ever have realized what was really going on. And then I saw the puppy."
Singer stared at his hands. "I made the dog change and I found out he was no more than a boy, a mere eight years old. The poor kid was naked as the day he was born, wearing some kind of shock collar to teach him not to speak or disobey. I was like you then, hesitating between killing him and putting him out of his misery, or saving him."
"Why didn't you kill him?" John couldn't help asking, no matter how grateful he was to Singer for the decision he'd made.
"Because he was a child, just a little boy. The things that that … filth, did to him. He still won't tell me about it, goes blank when I even mention that period of time. And what was I supposed to do? Find his parents? Tell them their son was a monster now? That they would always have to watch out with him, because one day he might try and kill them?"
"So you took him in instead?"
"I adopted him, I raised him, I love him as if he were my own blood. He's my son."
"No he's not. " And then before Bobby could stop him. "He's mine. He's mine and he's alive and I nearly…"
And it was then that John couldn't fight it anymore. He hadn't cried since he thought Dean had died. Since Mary, since… Broken apart by emotion, stronger than any he could ever imagine.
"I could have killed him, my own blood, my little boy."
Bobby stared at him, got up and left. And John stared after him, up the stairs, Bobby froze as the door slammed shut right before his nose. It didn't lock and Bobby left after something, someone… and John was left there, sitting in the light Bobby had left behind.

Dean ran, ran from the man in the dark. And what he hoped was the man's lie. Bobby was his father, Bobby, not Winchester, right? Most of the Skinwalkers let him pass without a moment's pause. There were so many of them in the compound. Men, women, even children, puppies, running about free, with no one telling them what to do beyond a grumbly demand to watch where they were going.
They were Skinwalkers, monsters. Monsters who sang songs to their babies, and nuzzled their children. Monsters who played cards and made jokes. When he saw Cody talking to some of the newly freed Skinwalkers he almost ran up to him, begging the older dog to tell him what to do. But he was beyond scared of getting an answer.
In the end he followed a scent, Sam's scent. The boy was locked in a room upstairs. The guards hesitated a bit when Dean asked them if he could see the boy, but finally let him in.
The youngest Winchester sat on the floor in the corner of the room, ignoring the bed, ignoring the sunlight streaming in through the window. It was a nice room, as far as rooms went. But it was obvious that the youngest Winchester wanted nothing to do with it. Sam froze when he noticed Dean standing in the door.
"Are you going to do it?" Sam demanded.
Dean froze. "Do what?"
"Turn me, that's what they're planning to do, isn't it?"
Dean shivered at the thought, remembering the baby, the baby in his arms. "Take Sammy and run."
A gruff voice ordering him to: "Get out." Telling him to look after Sammy, calling him Sport. And Dean sank down on the floor next to Sammy.
"Take Sammy and run." He whispered. "Take Sammy and run, look after Sammy. Sammy's crying, don't wake up Sammy. I don't… I don't remember much, but I remember Sammy. "
"You are him?" Sam looked up, "But he died?"
"He did, and he didn't, he's me. But I'm not that boy anymore. I stopped being that boy a long time ago."
"Like they want me to stop being me?" Sam asked, as if he already knew the answer and Dean had no response to that.
"Look after Sammy. That's all he ever wanted me to do. And then the man took me, and I didn't have Sammy no more."
"I'm sorry." the boy said and Dean turned his way, sniffing the air, catching every last bit of Sam's scent as he said words that he shouldn't be the one saying.
"Did he even look for me? Did he miss me?"
"He killed half the Skinwalkers on the continent trying to avenge you, Dean. He loved you, he still does."
"He shouldn't have done that."
Sam bowed his head. "He thought they killed you."
And Dean leaned in against his brother, changing to his dog form without a second thought, his clothes more of a hinder now as he butted his head against the boy's leg and Sam started petting him.
That's how Bobby found them, a boy and his brother, cuddling together against the world, and Dean didn't want to get up or out of this room.
"Take Sammy and run." There wasn't even a doubt in his mind of what he'd do if any of the Skinwalkers here ever threatened his Sammy again.
Epilogue
It took a week before the boy showed himself to him. And when he did, John almost wished he hadn't, staring up at the blood covering the kid's mouth and hair.
The boy sank down in front of him and cried. John's hands still tied to the wall.
"Dean." He whispered.
The boy didn't answer, just stared at him with wild eyes
"Sam?"
The boy looked away from him, and for a second John feared. No.
"Help me?" Dean whispered.
John didn't even need to answer.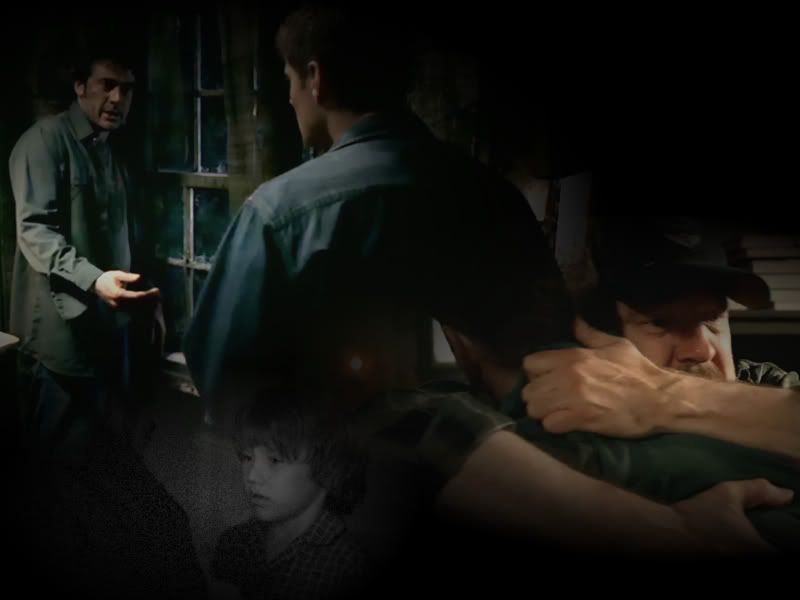 finis
Previous