This is a fanmix I made for a challenge on
spnland



Iron Man - Black Sabbath
We're Not Gonna Take It – Twisted Sister
I'll make a Man out of you – Donny Osmond
Fortunate Son – Creedence Clearwater Revival
I can't decide – Scissor Sisters
Hate me – Blue October
The Mob Song – Beauty and the Beast
March of Cambreadth
Tell my Father – John Barrowman
No good deed – Idina Menzel
Empty Chairs at Empty Tables – Michael Ball
Slow Decay – Dashboard Confessional
For Good – Idina Menzel/Kristin Chenowath
Citizen Soldiers – 3 Doors Down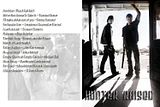 A zip map with all the music and the two covers

1. Iron Man (Black Sabbath)
Nobody wants him
He just stares at the world
Planning his vengeance
that he will soon unfurl

Now the time is here
for Iron Man to spread fear
Vengeance from the grave
Kills the people he once saved

This is the monster that the Winchesters hunt, the darkness both outside and inside their own souls. It's the demon that's killed Mary and the monsters aside of him that threaten the innocent and the obsession that's taken over John's mind. The need for revenge, for justice both from victims and the things they hunt.

2.We're Not Gonna To Take It ( Twisted Sister)


Oh we're not gonna take it
No, we ain't gonna take it
Oh we're not gonna take it

Oh you're so condescending
Your gall is neverending
We don't want nothing, not a thing from you

Your life is trite and jaded
Boring and confiscated
If that's your best, your best won't do

John's not gonna take it anymore, he won't let the demons hurt his kids, no matter what his friends and family say. He's going to become a hunter and fight back.


3. I'll make a Man out of you (Donny Osmond)

You're the saddest bunch
I ever met
But you can bet
Before we're through
Mister, I'll make a man
out of you

John training himself and his boys to be hunters, warriors and to fight the darkness. He can't be just their father, he has to be their drill sergeant as well.


4. Fortunate Son (Creedence Clearwater Revival)

Some folks inherit star spangled eyes,
Ooh, they send you down to war, Lord,
And when you ask them, "How much should we give?"
Ooh, they only answer More! more! more! yoh,

Dean's never had it easy, he was never spoiled, never kept safe from the darkness. He grew up to be a hunter and no matter how much he gave, he was asked to give more. Both for his family and the innocents surrounding him.



5. I can't decide (Scissor Sisters)


I can't decide
Whether you should live or die
Oh, you'll probably go to heaven
Please don't hang your head and cry
No wonder why
My heart feels dead inside
It's cold and hard and petrified
Lock the doors and close the blinds
We're going for a ride

How hard do John and Dean have to be, what monsters deserve death. Have they looked too long into the abyss and become the monsters they face.


6. Hate me (Blue October)

I'm sober now for 3 whole months it's one accomplishment that you helped me with
The one thing that always tore us apart is the one thing I won't touch again
In my sick way I want to thank you for holding my head up late at night
While I was busy waging wars on myself, you were trying to stop the fight
You never doubted my warped opinions on things like suicidal hate
You made me compliment myself when it was way too hard to take
So I'll drive so fucking far away that I never cross your mind
And do whatever it takes in your heart to leave me behind

John wasn't a perfect father, he wasn't even close to the father that Mary would have wanted him to be. He understands that Sammy ran away from him, and he hates him for doing so at the same time. He hates himself for what he did to Dean's life and tries to protect both his sons by keeping them out of his hunt for the Demon that started it all in the first place.


7. The Mob Song (Beauty and the Beast)

We don't like
What we don't understand
In fact it scares us
And this monster is mysterious at least
Bring your guns
Bring your knives
Save your children and your wives
We'll save our village and our lives
We'll kill the Beast!

But what if the Hunter becomes the Hunted. What do John and Dean do when the Hunters come after Sam, when people don't understand what he is and want to kill him for it... And can they ever be sure that their own hunts are worth it, that they don't go after the innocent.


8. March of Cambreadth (Alexander James Adams)

Follow orders as you're told,
Make Their Yellow Blood Run Cold
Fight until you die or drop,
A Force Like Ours is Hard to Stop
Close your mind to stress and pain,
Fight till You're No Longer Sane
Let not one damn cur pass by,
How Many of Them Can We Make Die!

They won't stop fighting, they won't stop their struggle, no matter what. They can't stop to wonder, all they've got is the need to see their enemy dead.

9. Tell my Father §John Barrowman)/b>

Tell my father that his son
Didn't run, or surrender
That I bore his name with pride
As I tried to remember
You are judged by what you do
While passing through
As I rest 'neath fields of green
Let him lean on your shoulder
Tell him how I spent my youth
So the truth could grow older
Tell my father when you can
I was a man

When Dean's dying, he asks only for one thing, that his father would know that he died like a Winchester, like his father would want him to. But Sam won't listen and manages to find a way to save him.


10. No good deed – Idina Menzel
No good deed goes unpunished
No act of charity goes unresented
No good deed goes unpunished
That's my new creed
My road of good intentions
Led where such roads always lead
No good deed
Goes unpunished!

No matter how hard they fight, no matter what they do, or how good their intentions, things always seem to get worse. So why do they keep trying?



11. Empty Chairs at Empty Tables – Michael Ball

There's a grief that can't be spoken.
There's a pain goes on and on.
Empty chairs at empty tables
Now my friends are dead and gone.

More and more friends are lost, gone, but none are forgotten. Sometimes because of fights, sometimes because they died. How can they go on without them? And how do they bear with the guilt?


12. Slow Decay (Dashboard Confessional)

"I'm not hurt I'm not dead
I just should be
Where my friends are lying

And I didn't hate
Those that I killed
But they're all dead now

And no one to judge me
Or the things that I've done at all

So how could I live with that?
</i></small>

Dean's guilt, and his inability to deal with it, and with being alive while others are dead in his place. Whether it's his father who died for him, the man that was taken by a reaper in his place, Victor Henrickson and the others at the police station, or just the things he did in hell... His guilt is overpowering. No matter how Sam tries to tell him he's safe now.


13. For Good (Idina Menzel/Kristin Chenowath)

</small>Who can say if I've been
Changed for the better?
I do believe I have been
Changed for the better.

Glinda:
And because I knew you--

Elphaba:
Because I knew you--

Both:
Because I knew you,
I have been changed for good. </small>

They can't say if knowing one another, being together, changed them for the better. All they can say is that they are who they are because they are family. Because they knew one another,John, Dean and Sam have been changed for good.

14. Citizen Soldiers (3 Doors Down)

On that day when you need your brothers and sisters to care,
I'll be right here.
Citizen soldiers holding the light for the ones that we guide from the dark of despair.
Standing on guard for the ones that we sheltered,
We'll always be ready because we will always be there.

When there are people crying in the streets,
When they're starving for a meal to eat,
When they simply need a place to make their beds,
Right here underneath my wing,
You can rest your head.

But because of how they were raised, because they are hunters, the Winchesters will always be there to help others. To shelter the ones who need them from harm. Because it's what they are, it's in their blood. It's no longer for vengeance, it's for the people who need them.

When people need them, they'll be right there.