Fic title: The Dog Who Belonged to Himself
Author name:
liliaeth
Artist name:
spn_2008
Genre: gen
Pairing: none
Rating: PG13
Word count: 25168
Betas: Much thanks to
creepylicious
and Mary Laws
Warnings: mentions of child abuse, both sexual as physical, trade in children, non graphic depictions and mentions of adults raping children, non graphic flashback to the rape, abuse and dehumanization of a child
Summary: Shortly after John Winchester lost his wife to demons, he lost his oldest son to a Skinwalker. Now, twelve years later, he's hunted down every single Skinwalker he could find and killed them, unaware that his oldest is still alive. That the monster that took his child hadn't taken his life, just his humanity. That she'd turned his child on the command of a human slave ring that traded in Skinwalker children. Dean ended up saved and raised by the Hunter Bobby Singer, but what's a young pup to do when his foster father goes missing and the only one who can help him find him, is a Hunter who despises his kind and would kill him on the spot?
This is the second story in my
Skinwalker Dean
series. The prequel can be found
here
Masterpost Art: Can be found
here
and is made by the far more awesome than I deserve
spn_2008
Masterpost Fic:
http://liliaeth.livejournal.com/400286.html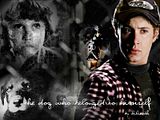 (
Collapse
)
Next